Raspberry Pi IoT In Python Using Linux Drivers
Errata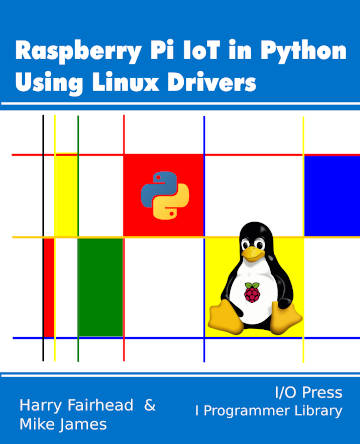 ISBN: 9781871962659
The Raspberry Pi makes an ideal match for the Internet of Things. To put it to good use in IoT you need two areas of expertise, electronics and programming, and this presents a barrier to getting started. However, there is an overlooked route that can provide a shortcut. Pi OS, the Raspberry Pi's operating system, is Linux- based and Linux drivers are available for many off-the-shelf IoT devices. These provide a very easy-to-use, high-level, way of working. The problem that this book solves is that there is very little documentation to help you get started.
Throughout this book you will find a practical approach to understanding electronic circuits and datasheets and translating this to code, specifically using Python. Python is an excellent language for learning about the IoT or physical computing. It might not be as fast as C, but it is much easier to use for complex data processing. The emphasis in this book is on understanding how things work so that you can apply your new knowledge to your own projects. You can use any Python development system that you know, but the programs in the book have been developed using Visual Studio Code and its remote development facilities.
The first IoT program anyone writes is "Blinky" to flash an LED and this book is no exception, but it might not be quite what you expect. Instead of using a GPIO line, it uses the Linux LED driver – no hardware and no fuss. The GPIO isn't left out, however, as the next three chapters focus on its use via the new GPIO character driver, which replaces the old and very common sysfs GPIO driver. This is the way to do modern GPIO.
A key component in any look at Linux and its relationship to hardware is the relatively new Device Tree. While most accounts of this resource are aimed at device driver writers, this one is aimed at device driver users and to this end we look at several devices, including the DHT22 temperature and humidity sensor. After a brief detour into some basic electronics, we see how Pulse Width Modulation is supported via a driver. From here we tackle the two standard buses, I2C and SPI, first going through the basics and then looking at the two attempts to impose a higher organization, the hardware monitoring system, Hwmon, and Industrial I/O, IIO. The third standard bus, although generally not supported in hardware, is the 1-Wire bus. This is covered in detail and even includes an introduction to using Netlink, which uses the sockets API to send messages to and from the kernel to access the driver. The final chapter takes things to the next level and considers creating your own custom overlays by writing fragments to the device tree.
This is the second title jointly authored by Harry Fairhead and Mike James and can be seen as the alternative approach to that outlined in Raspberry Pi IoT In Python Using GPIO Zero. For both books, Harry brings his expertise in electronics and the IoT and Mike contributes the Python code.
Harry Fairhead is the author of other IoT-related titles including Raspberry Pi IoT in C, Second Edition; Micro:bit IoT in C, Second Edition; Applying C For The IoT With Linux and Fundamental C: Getting Closer To The Machine.
Mike James is the author of Programmer's Python: Everything is an Object and other programming and computer science titles in the I Programmer Library.
Publisher :

I/O Press (March 14, 2021)

Language :

Englis

Paperback :

274 pages

ISBN-10 :

187196265X

ISBN-13 :

978-1871962659

Item Weight :

1.32 pounds

Dimensions :

7.5 x 0.62 x 9.25 inches
Publisher :

I/O Press; 1st edition (March 13, 2021)

Publication date :

March 13, 2021

Language :

English

File size :

10608 KB